If you need the space of an SUV but don't want the high fuel costs that come with it, trust the Toyota Rav 4.  Rav 4 has comfortable seating for five adults, but can convert quickly and easily to haul up to 73 cubic feet of cargo space.  No other small SUV can match Rav 4's uniquely designed rear door and low lift height.  Rent a Rav 4 today for only $69.95 a day.  Or take advantage of our super-low weekly rental rate of $409.00.
Marion Toyota is proud to offer the finest rental vehicles in southern Illinois.  All of our Rav 4's are
current year models
, most
with
less than 10,000 miles and less than 5 months old
.  
We do not have one-way rentals.  This allows us to keep every vehicle as a part of our fleet and in excellent condition.
It also ensures that all of our customers enjoy the very best rental fleet available anywhere.  Smoking is not permitted in any of our vehicles.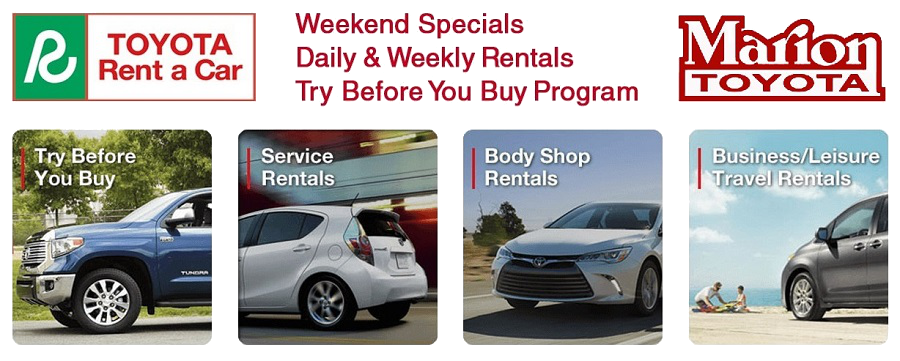 Rental Department Hours
| | |
| --- | --- |
| Monday | 8:00 to 5:00 |
| Tuesday | 8:00 to 5:00 |
| Wednesday | 8:00 to 5:00 |
| Thursday | 8:00 to 5:00 |
| Friday | 8:00 to 5:00 |
| Saturday | Closed |
| Sunday | Closed |
"We were surprised to find a smaller SUV available for rent.  Most rental companies only had their very biggest SUV's available.  On our long trip, the gas mileage would have been twice the rental fee"
- D. Brown, Fairfield, Illinois