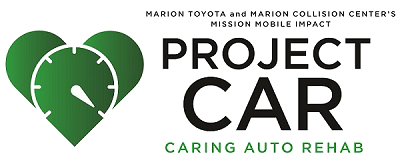 Initiative will provide less fortunate individuals and families with reliable transportation.
Project CAR (Caring Auto Rehab) is now actively seeking donated vehicles that will be refurbished and repaired for southern Illinoisans in desperate need of a reliable vehicle. Project CAR is a joint effort between Marion Collision Center and Marion Toyota. Marion Collision Center and Marion Toyota want to utilize their team members skills for what they are best at...automobiles. They'll donate their time and resources to help individuals and families who are doing their best in a tough economic time where a dependable car could fill the gap making a difference in achieving daily activities, responsibilities while supporting important life goals.
Both Marion Collision Center and Marion Toyota are looking for vehicles to be donated to their program. They will be contributing the body work, mechanical work, and parts to appropriate vehicles for Project CAR. Please direct all car donation interest and other inquiries to the project coordinator, Jennifer Chaney 618-364-4820 or jchaney@mariontoyota.com.
As vehicles are acquired, more information will be available for anyone wishing to nominate a deserving individual or family to receive each vehicle.